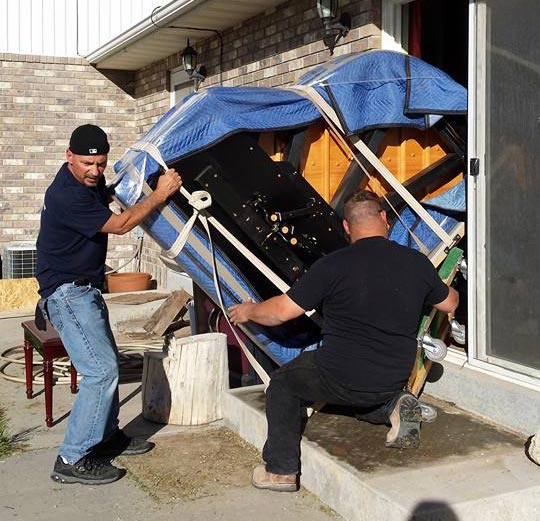 Piano Moving in Salt Lake CIty, UT
Piano moving requires not only the skills to move a piano from one place to the next, but also to properly disassemble, protect and handle the piano, to prevent structural or acoustical damage. When you need piano moving in Salt Lake City, UT, the best thing you can do is call the experts at Furniture Master Moving Services Inc. Our years of experience and numerous successful piano moves have distinguished us as the best in the business for piano moving services, no matter what kind of setup you have.
Piano Moving Considerations
We treat every piano with delicate care and attention right from the beginning. We'll disassemble any parts that can be moved separately (legs, pedals) and shrink-wrap everything to protect it from the elements. We also pad and shrink-wrap the soundboard, maintaining the tuning and integrity of your piano's most vital part.
With everything padded, wrapped and secure, our experienced movers will take care in properly lifting and transporting your piano to a truck, then secure it for the ride. When it comes time to unload, the process is the same: careful attention to detail and safe handling of your instrument. When everything is said and done, you'll press the keys on a piano that sounds as good as it did at its old location!
Types of Pianos We Move
Our experience with piano moving is extensive, and we've handled pianos of all sizes and shapes. From ballroom grand pianos to small spinets, we treat every instrument with the same level of care and integrity, so you can continue to make beautiful music once the move is complete.
Small upright pianos (spinet)
Large upright pianos (studio)
Baby grand pianos
Large grand pianos
Square grand pianos
Organ moving
Safely Relocate Your Instrument
Pianos cost thousands of dollars and many have sentimental value that make them priceless. When it comes time to relocate your piano from one place to the next in Salt Lake City, UT, don't take any chances. Contact Furniture Master Moving Services Inc. today at 801-266-5982 to schedule piano moving services with experts who will handle your piano with care.